Our success starts with our people
We offer a wealth of effective and high-quality learning opportunities throughout the organisation, supporting our employees to achieve their goals, and grow with us.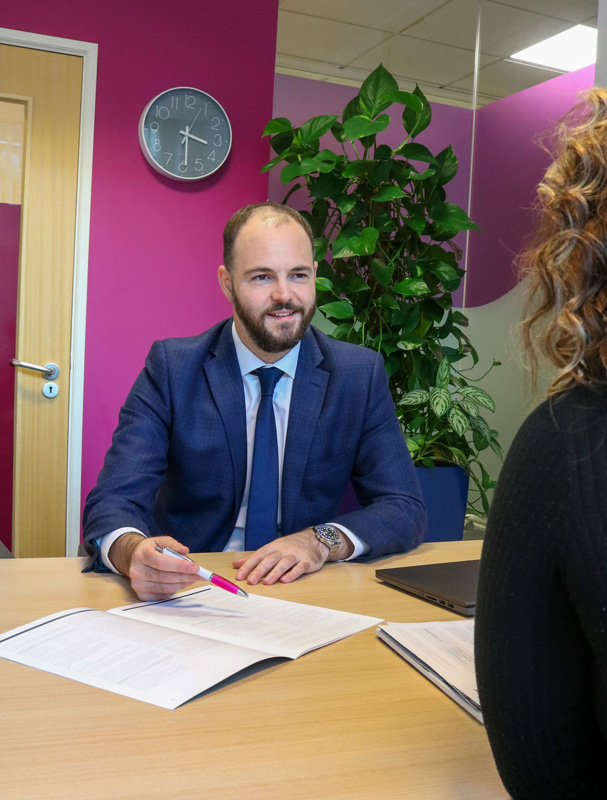 Fraser's story
"I joined AFH in November 2015 as a Financial Planning Technician (FPT) because I wanted to build on my technical knowledge and skills which I felt were my key strength. I'd seen the role advertised and after reading through the job description I felt the role was perfect for me. The FPT role involves technical research, report writing and calculations to support the consultants. Clearly, it worked out because 7 years later I'm still here.
I have now completed my chartered-level exams and AFH have sponsored further studies to help me achieve Fellowship of the Personal Finance Society.
I had the opportunity to broaden my communication and decision-making skills when I was promoted to Senior Advice Technician (SAT). This involved providing a wider level of support to advisers in the form of case discussions, as well as pre-approvals of high-risk cases. I also took on the role of Pension Transfer Specialist. This meant delivering some difficult messages but in a constructive, rational and persuasive way.
During those six years as an FPT and then SAT my confidence and people skills grew and this is at least partly down to being around some fantastic people at AFH.
As such, in 2022, I chose to become a self-employed Independent Financial Adviser, supported by AFH. This has started positively which can be attributed to the formal support from AFH and collaboration with established advisers in the AFH community, who have given incredible support."
Megan's story

"Since working at AFH, I have been given lots of opportunity to progress. I started my journey as a Project Admin, where I gained the skills to help effectively run projects and manage stakeholders. I then became a Senior Operations Exec, where I better understood the processes within the business and made a difference to the day-to-day workflow.

I missed the ability to be creative, which I have from previously being a primary school teacher, and so I reached out to my Head of Department to discuss my options. We concluded that a Communications and Marketing Executive role would suit me, and my extensive knowledge of the business and stakeholders would enable me to make an impact.

This allowed me to be more creative – I'm grateful AFH gave me the option to find what I love doing and helped me achieve my goals.

One of the best things about AFH is the ability to work flexibly within the business as it gives me a better work-life balance. I have also made lots of lifelong friends within the business – AFH employs like-minded people, who are all happy to help and support others."

Ethan's story

"AFH have allowed me to progress my career within financial services. I started as a temp in the reporting team and began studying almost straight away. While completing my exams I was able to transfer over to the Portfolio Management team as a Dealing Executive, learning the role I wanted to do while assisting the Portfolio Managers.

When I gained the necessary qualifications, I became a Junior Portfolio Manager and learned the ropes until I was signed off last year. Now I'm studying towards the Chartered Wealth Manager qualification and have passed the first of three modules.

Along the way I have been privileged enough to work with people who have supported me and fostered a hunger for learning which has fed into a lot of personal growth. My favourite thing about working for AFH is the people. For me that's what makes me happy in my job, working with a reliable team in a good atmosphere."